Information for Participants

To poster presenters: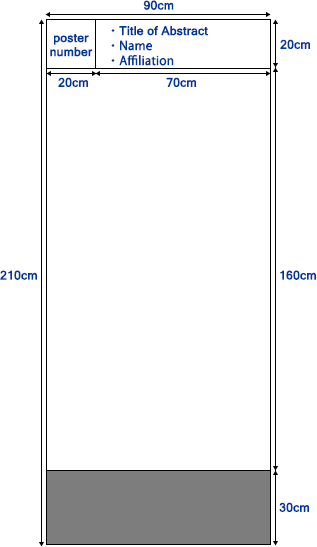 1. Conflicts of Interest Disclosure
All presenters (principal presenters of specific/general subjects [oral/poster presentation]) and principal researchers are obliged to disclose any conflicts of interest (COI) during the presentation. Please disclose any COI from last year (from January 1 to December 31, 2017) in the bottom right of the poster board.
For details, check
here
.
2. Poster Board (see the picture above)
The Secretariat will assign your poster number (20 cm × 20 cm) and provide thumbtacks to mount the board. Please make a presentation poster including the title, abstract, affiliation, name, and presentation in accordance with the guidelines.
3. Time to Mount, Exhibit and Remove the Poster Board
Please come to the reception of the poster presentation site at the "mounting time" on the day of your presentation to receive two items: a yellow ribbon for the presenter and a presentation schedule.
Please attach the yellow ribbon on your left chest during presentation and return it to the reception of the poster presentation site after presentation.
Any poster board left unremoved after the "removing time limit" will be disposed of by the Secretariat and will not be returned to you. Thank you for your understanding and cooperation.